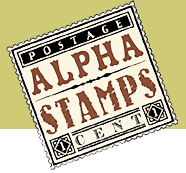 A bit of this and that… some new HALLOWEEN papers arrived (yay!) plus some adorable miniature crates (in 1:12 or 1:24 scale) plus a Flash Sale!

Wow! Design Team Member Kristin Batsel's is back with ANOTHER fab ATC mailer! This time it's all about BEES! I love the tan and black contrast (and I've added some bee items to the August Kit Theme Section so they are part of the new sale — more on that below).
But first, let's start with some text from Kristin's blog post:
I had so much fun with the Mermaid Mailer I just did, that I had to try another one with a different theme. This one is all about the bees, with a butterfly and some rogue ladybugs thrown in for fun. For this mailer, I chose to embrace the brown of the cardboard and use it as part of the design. I had a great black and white ribbon, and used it to keep the mailer closed instead of the tab and slot in the back. A couple of great charms are wired to the ribbon, and a specimen tag is tucked up under the bow. The ribbon slides off for easy opening; no need to untie!
On this photo of the back, you can see here how the flap is just folded down and held in place with the ribbon. The butterfly is attached to the ribbon with a thin strip of double sided tape. I like the natural color of the envelope showing; it really accentuates the nice curves of the flap.
Read more in Kristin's blog post. See her supply list here AND see another photo of the inside of her mailer below in the Giveaway (with a secret/extra card showing).

New & Back in Stock!
Ok… 3/4 of these are New or Back in Stock… the last 2 are clearance sale items I'm pointing out 'cause they are BEES!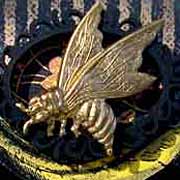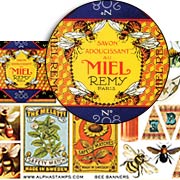 FLASH SALE! Wow! This is a nice group (and I just added some bee items in honor of today's artwork)!
This is a 25% off discount coupon: enter promo code AUGUST when you check out. (The discount will only effect the items in your cart from the sale section… read on!)
25% off EVERYTHING in the August Kit Theme Section (35 items, including a mix of items: from scrapbook paper to lots of collage sheets (with birds & bees) to pretty patina charms, including the ATC Envelope Folder used in Kristin's artwork today — the discount is on top of current sale prices! The coupon expires at midnight on Saturday night, August 11th.


Hooray for the Lots of Bees Giveaway!
Ah… there's a second ATC in Kristin's project! With a little tag added to help pull it out (and to alert the recipient that there's something extra there).
To get this Giveaway going: EVERYTHING in Kristin's Supply List is included in today's Giveaway!
Now Kristin was quite frugal. Like: she used the specimen tag and a butterfly (on the outside of the mailer… see above) from the same collage sheet (Winged Things). Plus that little fairy holding a 4-leaf clover is from that collage sheet, too.
So I'm throwing in a few extra goodies:
- Both of the bee items shown in the flash sale section above (Bee Banners Collage Sheet and Large Brass Flying Bee)
- AND, though they're not quite large enough for an ATC, I'm including a set of the Kraft Card Sleeve Envelopes (that have the same little round notch like the kraft envelope Kristin added to hold her 2nd ATC — see the far right side of the row of goodies below). AND these sleeves are on clearance sale!
To enter the Lots of Bees Giveaway drawing all you have to do is leave a comment BELOW on this blog post TODAY or TOMORROW (the deadline is 11:59 pm PST, Friday Night, August 10, 2018).
Don't forget to leave your (hello!) correct email address, too, so I can contact the winner; your email address does not need to be made public. Note: I'm offering free shipping, too, but only within the USA. International shipping will still apply.
Please be patient! Spammers try to post crap here a lot so comments are moderated. So if you don't see your post in the comments section, be patient and check back in a few hours before re-posting it, please!
After midnight, I'll randomly pick the winner (via Random.org).
Hey, who won the Santa and Snowman Ornaments Giveaway from Sunday's newsletter? That would be Chris Hoffman! Congrats! Check your email for info.

Posted by
Leslie
, August 9th, 2018