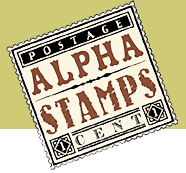 I've got so many ideas for stamping and embossing paper embellishments after seeing Design Team Member Kira Nichols' Halloween Witch Collage (at right) and her Embossed Embellishments Tutorial! Kira used the New and On Sale! Celestial Cling Stamp Set (stamped with red ink, embossed with Clear Embossing Powder, and then highlighted with Gilders Paste — gorgeous combination!) but I can imagine all kinds of trims using her technique.
And there's also a New and On Sale! Emboss Gloss Pen, that is so fun to use! Instead of using a rubber stamp to create an image to emboss, you can scribble, write, draw (or cover small 3D objects or die-cut chipboard) before embossing. You can also go back and fill in areas you may have missed and emboss again.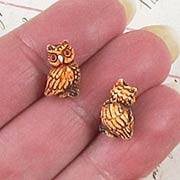 (Before I forget, that adorable little Ceramic Owl Bead (on Kira's collage and in the smaller photo at right) are Back in Stock!)
I went a little crazy and put the Moon With Stars Rubber Stamp On Sale! for 99 Cents! (it seems fitting with the celestial stamp Kira used on her artwork).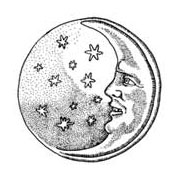 And the craziness didn't stop there: I also put all of the Stamping Supplies On Sale! That includes all the new colors of Embossing Powders, too! (And see below for a couple teasers to some fun samples Design Team Coordinator Miz Bella (Kim Ayers) made with the new powders.
Speaking of sales, don't forget that October 31st is the final day of the Sales for both the Halloween Theme (that also includes all of the Halloween Rubber Stamps and Collage Sheets!) and the Halloween Carnival Event Supplies Section!
But before you run off and get engrossed in Kira's tutorial, check below for a Sale on all the Tim Holtz Cling Stamp Sets (including some that have just arrived back in stock), and the FREE gift kit inspired by Laura's artwork that is still available (from Thursday's Newsletter)!

Posted by
Leslie
, October 20th, 2013